PS-20 is an ultra-realistic, polyphonic, hot-rodded tribute to Korg's renowned MS-20. First and foremost, PS-20's dual highpass/lowpass filters super accurately recreate the MS-20's famous raunchy sound in all of its squelchy, screaming glory. In addition to its unique filters, the MS-20's other signature feature is its modular-style patch panel. We've reconfigured the patch panel from the original instrument, adding many desired in and out patch points for all oscillators, filters, and VCAs, correcting the confusing terminology of the original, and throwing in a few extras that greatly expand its usability.
Every part of the instrument has been "souped up" with killer features, including 16-note polyphony, a unique three-layer, eight-step sequencer with flexible CV outs, and integrated effects, including a beastly distortion, modulation echo with stereo spread, and a lush digital reverb with fantastic spring and plate emulations.
The PS-20 truly is one of the most quirky and unique instruments we've released. Between its sometimes unpredictable filter behavior, and the tremendous flexibility of its patch panel and sequencer, the possibilities are endless, and the creative "happy accident" quotient of PS-20 is simply off the charts!
PS-20 Synthesizer Features:
Super-accurate modeling of classic MS-style highpass and lowpass filters
Up to 16-voice polyphony with random voice panning available
Over 320 mind-blowing presets
Three-channel, eight-step sequencer with 1/2-step quantizer and tempo sync
Single-key chord memory mode
Expanded and simplified full-function patch panel
Advanced, next-generation patch panel cabling system from Voltage Modular
External Signal Processor section with normalled sidechain input
Virtual instrument and effect plug-in versions included
Tempo-syncable modulation generator
Unison detune for massive lead and bass sounds
Advanced one-click UI magnification
MPE support
Four user-selectable interface color themes
Distortion, studio-quality reverb, and mod echo with tempo sync effects
Full MIDI control and DAW automation for all controls
Preset level MIDI mapping/automation
Preset favoriting from the toolbar
A free 30-day demo of PS-20 Synthesizer is available. This demo will play white noise periodically, but is otherwise unlimited.
PS-20 Synthesizer is available in AU, VST, VST3, AAX, and standalone formats
macOS Requirements:  macOS 10.13 or above. 64-bit required. Native Apple M1 or greater processor support, including Ultra. 3.4 GHz Quad-Core or M1 CPU with 8GB of RAM recommended.
Windows Requirements: Windows 7 or above, 64-bit required. Quad-core computer with 8GB of RAM recommended.
NOTE: Internet connection required for product activation.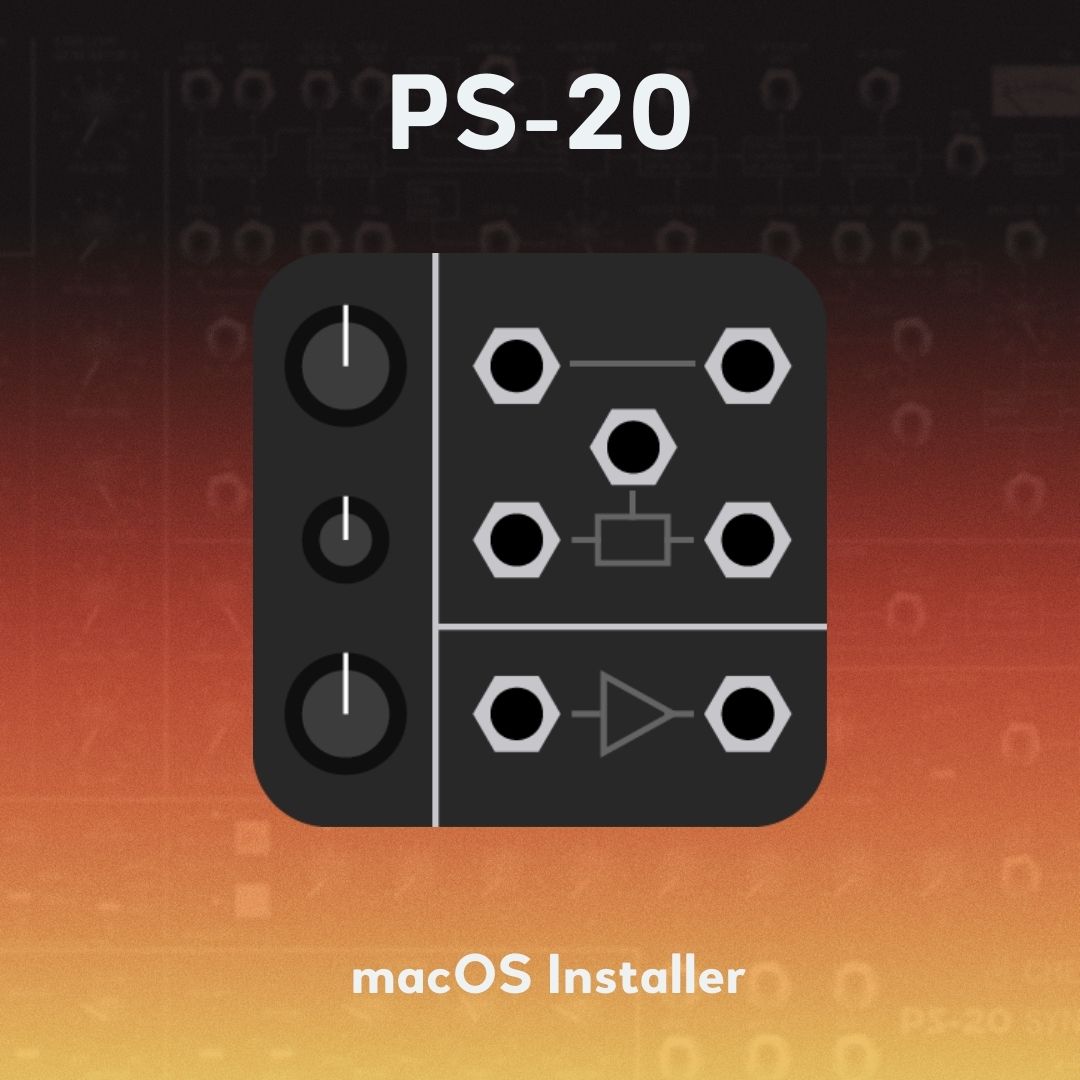 Analogue Class
Only had this synth for a little, and yet the sound creation possible is incredible, with this and the 8 Voice, and at the price too. Well done Cherry Audio. Mono and Poly modes, rich filters and power oscillators make this a stand out synth.
Just what I'd hoped for
I bought an MS-20 in 1978. Your revise addressed all the missing elements I'd ever wanted. Congratulations!
AMAZING!
I have hundreds of softsynths, including Halion 6 , Ober 8, and Arturia V Collection 6, Pigments, Loom etc, and find the PS-20 has the most wonderful & all-round sounds of them all. PS-20 has everything I want in a synth, and more.
Amazingly well done Cherry Audio folks!
Very close, great enhancements
My old and trusty genuine Korg MS-20 is sitting next to me on the table... I used to connect it to my DAW via a MIDI2CV-Box. But it's not that reliable any more, the knobs are crackling and the oscillators drifting... so for everyday sound design, I find the PS-20 a great substitute. Of course you cannot expect every nuance that gives the "old beast" its character, but this not the point anyway. For me, at least.

The PS-20 hast its own character and sounds great. The enhancements over the original are very clever and makes the plugin very versatile in my projects. Also, it is polyphonic and it's a bargain! You cannot make a mistake when purchasing this.
slowmotionblues
Jun 12, 21
Soft synth game changer!
Absolutely incredible soft synth - the most analogue sounding plugin I have used. If I could give 6 stars I would be a happy man. Incredible.
Cherry Audio PS-20 Synthesizer
Pure Brilliance!..
simple,beaux ;complet!! bravo! et merci!
robotsun@yahoo.com
Dec 19, 21
Another great synth!
This sounds fantastic and is easy to program and use. I love the Cherry Audio instruments - well done.